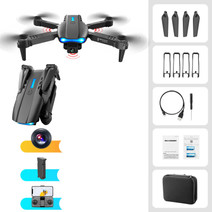 4K Drone - Latest Drone with Dual Camera 4K UHD
Discover the World From New Heights with Our Latest 4K UHD Dual Camera Drone
Are you ready to take your aerial photography and videography to the next level? Look no further than our latest innovation – the 4K drone UHD Dual Camera. This cutting-edge drone is designed to redefine your perspective, capturing the world from new heights and providing you with unparalleled visual experiences.
Features
Authentic Colors: With 4K video, the richness of clarity and true tones can be delivered in every frame, making the picture stunning.

Autonomous tracking mode: We use the most advanced sports intelligence module to automatically detect objects and avoid obstacles, similar to driving alone.

Long-lasting Battery: The 1800 mAh battery will provide enough power to operate the drone. Operating time can be 18 to 20 minutes. At the end of the flight, it is not necessary to recharge. Just take out the backup battery and install it, and you can keep flying!

Lightweight, Foldable Design: The ultra-lightweight drone is ideal for rapid deployment missions with a minimal footprint both in the air and for seamless transport. It is very convenient to travel with him.

The most advanced image transmission function: Our drone is equipped with our most advanced image transmission technology. Capable of capturing every impressive detail. Transferring 4K images to your phone is very smooth, clear and reliable.

Real time image transmission: It can be controlled by a mobile phone. Under its stable flight aerial photography, the picture returns clearly. You can watch high-definition videos anytime, anywhere.

LED light to record the video clearly in the dark

Dual Frequency GPS Positioning System: Our drone is also equipped with a dual-frequency GPS positioning system. This makes the placement of the drone more accurate and detailed. It can also provide automatic feedback, low power feedback, and unsigned feedback.
Specifications
Body unfolded size: 25 x 25 x 5.5 cm

Body folded size: 12.5 x 8.1 x 5.3 cm

Remote control battery: 3 x AA(not included)

Charging time: 60 minutes

Body battery: 3.7V 1800mAh (Lithium battery)

Flight time: 18-20 minutes for each battery

Remote control distance: about 150 meters

Working frequency: 2.4GHz

Adjustable 50x magnifications
Package includes
1 Aircraft

1 x Remote Control

Transmitter

1 x Fuselage Battery

A set of Spare Wind Blades

1 x USB Cable

1 x Screwdriver

1 x Manual

1 x Built-in HD Camera

1 x WIFI Manual
Experience the future of drone technology and unlock your creative potential with our Latest 4K UHD Dual Camera Drone. Elevate your photography and videography game to new heights – order yours today and start your journey to breathtaking aerial imagery.
If you're not fully satisfied, please fill in our
contact us form
and we'll quickly work to correct the problem.